Purchase "A Phoenix Rising: Defining the Moments"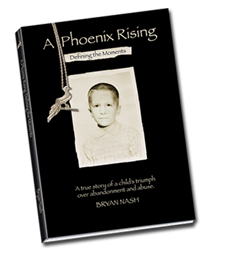 Several years ago as a young man, I emerged from the confining trials of the life as a foster child. The situational dynamics were not so unique, as numerous children face abandonment every day; it is the extraordinary path I followed that's compelled me to share my story.
It's a story of pain in every way imaginable, heartache, and sorrow; but also one of love and understanding. Most importantly, it's a story of triumph and survival, and the value of one's strength of spirit
This is a story for all…
Please click here to purchase.
Click here to view a video interview with Bryan Nash